Photokina September 2018. The Leica Camera AG, Panasonic and Sigma announced a strategic partnership. The "L-Mount Alliance".
All customers of all three partners will benefit from it. Originally, only Leica offered bodies and lenses for their L-Mount lens mount. This changed now thanks to this cooperation from 2018 on going forward.
Apart from Leica also Sigma and Panasonic will offer from now on both, cameras and lenses for the L-MOUNT. This lens mount is suited for fullframe and APS-C sized sensors.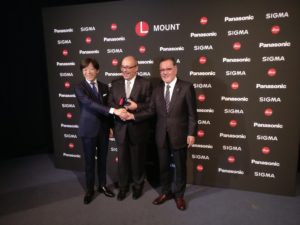 (Status Quo: 06/2022) 
We created a table with all L-Mount lenses currently available. You can search and sort in that table for specific lenses and compare them to each other. Just try it out.
Click here for the table with L-Mount lenses.
Cameras with L-Mount

1. APS-C
Leica T (16MP, 2014)
Leica CL (24MP, 2017)
Leica TL2 (24MP, 2017)
2. Fullframe
Leica SL (24 MP, 2015)
Leica SL2 (47MP, 2019)
Panasonic Lumix S1 (24MP, 2019)
Panasonic Lumix S1R (48MP, 2019)
Panasonic Lumix S1H (24MP, 2019)
Sigma fp (24MP Bayer Sensor, 2019)
Panasonic Lumix S5 (24MP, 2020)
Leica SL2s (24MP, 2020)
Panasonic DC-BS1H (24MP, 2021)
Sigma fp L (61MP, 2021)
Panasonic S5 MKii (24MP, 2023)
The Sigma fullframe Foveon sensor camera was postponed.
According to an interview in dpreview (02/2020), Panasonic is planning to release even more cameras in different price classes.
This is only an overview about this new L-Mount alliance and its current status quo, because it is very hard to get these information on the official websites of the different companies. Some lenses are still not listed on the official websites, although already available in the stores. If you have more questions or if you want to meet other L-Mount users, feel free to join our L-Mount Forum.