Today, I received a used (good condition) Leica CL as part of a trade in for some older gear I was no longer using. This camera was of interest to me, as its pretty much the only game in town if you want a really compact L mount camera with a built in EVF. Here I will give my first impressions after unboxing, taking some basic test shots, and having a poke around the RAW (DNG) files. I will mostly be comparing to my S5 which is my most used camera.
Build and materials
Very good, the cold metal top and bottom plates feel solid. The buttons and dials are solid and tactile. It's light on buttons compared to my S5, but this is inline with the way the camera is designed to operate. More on that below.
Screen and EVF
The rear screen is really bright and clear, it feels like it has a pretty high frame rate. The EVF I'd say is on par with the S5 EVF. Manually focusing with peaking enabled is pretty easy. There is also a little top LCD that displays settings, I really enjoy this.
Operation
It's unconventional but I like it. the two top dials are not labelled, both have a button set inside the dial. The left one is a mode button, press it to select the PASM mode. The right button operation can be configured based on your mode, as can both dials. In M I have the right button open the ISO settings, right dial is shutter speed, left is aperture control. The rear FN button I reserve for white balance selection. Despite not having many buttons compared to my S5, it doesn't feel like any settings are difficult to get to. Once you get it setup the way you want its very quick to use.
Focusing
The AF system is pretty dated, 49 AF points and basic face detection. It's sort of like going back to a Lumix G80 (understandable as it's from a similar time). It works fine, but there is no clever subject detection modes etc. For manual focus there is 3x or 6x punch in with focus peaking, it's fairly easy to get it right.
Image quality and RAW files
The JPEGs look good, the colours and contrast in standard profile are well balanced and natural. There aren't that many profiles to choose from, there's a couple of monochrome ones and standard/natural/vivid. RAW files have good shadow recovery, but highlights will become unrecoverable if over exposed by a stop or more. Noise can be noticeable from ISO 1600 in darker scenes. For some reason Adobe do not have camera profiles for any Leica L mount cameras, so you can't really match camera profiles when editing the RAWs.
Lens Compatibility
So far I have only tested with the Sigma 45mm f/2.8 but it works flawlessly. The aperture can be controlled from the ring or the dial on the body. Settings are fed back correctly and displayed on the top LCD. Auto focus seems to work just fine and flicking the AF/MF switch on the lens puts you straight into full time manual focus. I think this is because the Leica CL received firmware updates to make it fully compatible with L mount alliance member lenses before it was "discontinued". Strangely lightroom recognises the CL with the sigma lens, and offers lens profiles… just not camera colour profiles.
Over the next few weeks I'll be trying to test more lenses, including some Minolta MD lenses, and maybe even the sigma 100-400mm.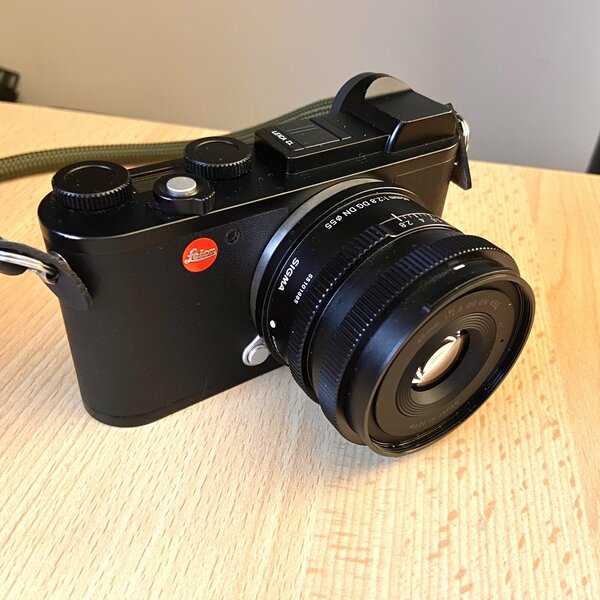 Apple - iPhone 11
iPhone 11 back dual wide camera 4.25mm f/1.8
4.3 mm
ƒ/1.8
1/9 sec
Pattern
Auto exposure
-0
ISO 500