It's clear that there are a large number of options available for L-mount. Panasonic's own lenses are brilliant performers, the primes weather-sealed and of consistent size to facilitate video use. At first glance the collection might seem complete.
But what's missing for me is a set of lenses designed for a) photographers that b) prefer a tactile approach and are c) compact. Perhaps I am spoiled by my Pentax lenses, where even a 50mm f/1.2 is a lot smaller than the existing L-mount lenses. While I enjoy adapting lenses from various systems (I have three mount adapters so far), native lenses would have the obvious advantages of autofocus and stop-down metering.
Who else would appreciate a small selection of compact primes that have aperture rings and direct geared focus? In today's photographic climate, film and vintage gear is ever-more popular. I believe that a Vintage line would appeal to many existing (and new) photographers. Certainly many folk would welcome being able to pack three lenses in the same volume as a single lens currently.
Here is a comparison of a typical Lumix S prime with the Contax Zeiss Planar 50/1.4 and Pentax FA Limited 43/1.9. (I don't have the 50mm Lumix but they are all much the same size.) Once lens hoods are added the comparison is even more extreme. To be fair, the length of the mount adapter should be added to the Contax and Pentax lenses, but this would not necessarily be the case for native lenses.
The Panasonic Vintage line would have appearance and ergonomics similar to the Zeiss Planar (or a classic Leica lens). The lens formulations themselves could be completely contemporary... or indeed could address various historical classics, e.g. the double Gauss design.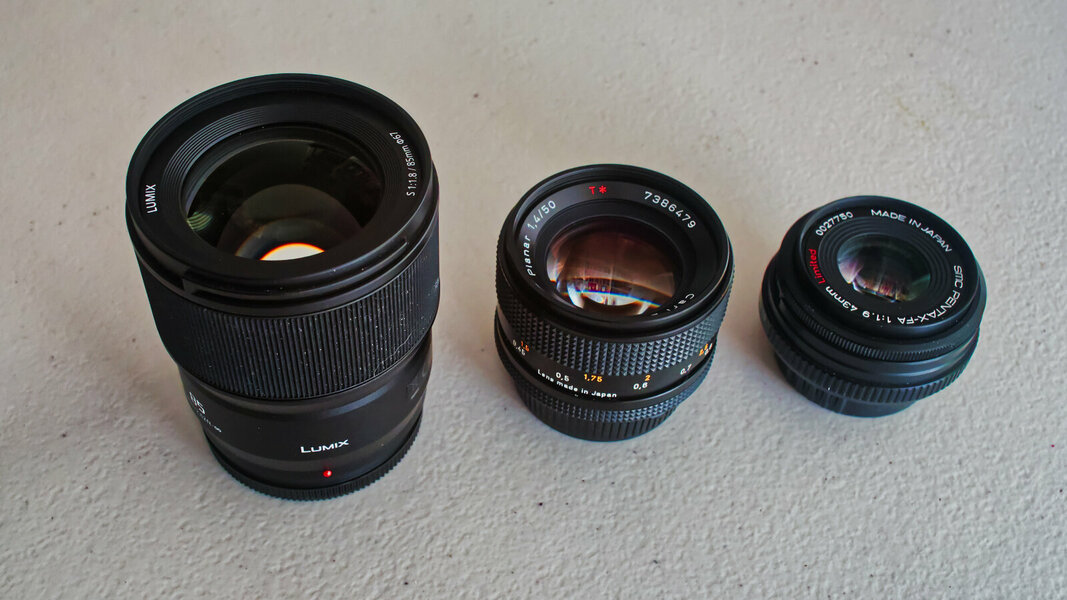 Panasonic - DC-S5
1/60 sec
Center-Weighted Average
Auto exposure
0.3
ISO 3200